The Goodlife Fitness Toronto Marathon is the premier Toronto race in my books. The route, the organization, the spectators, the entertainment, basically everything is top notch. Of course I admit I'm biased based on the fact that I'm the race director of the Collingwood Half Marathon & 10K, a sister race of this one! Still I have been running this race since 1989 off and on and I have to say it's truly grown into an international destination race.
The Course
The course runs from the north end of the city in Mel Lastman square straight down Toronto's main north-south corridor, Yonge Street. After running through several pretty neighborhoods including passing Casa Loma, the course winds it's way through the Rosedale Valley which is so well treed and beautiful that you forget you are in the 4th largest city in North America. After heading south on Bayview it turns into the historic St. Lawrence Market area and on into the heart of the downtown financial district. It carries on to the waterfront for a tour of Ontario Place, the lake shore parks, the Humber pedestrian bridge and Humberview Park. After turning around and heading back along Lake Shore Blvd. you finish to the roar of the crowd at Ontario Place right across the street from the Canadian National Exhibition grounds. It is indeed quite a scenic tour of the city.
The Support System
The Toronto Marathon has literally and army of volunteers including bike marshals, intersection marshals, water station workers, police, EMS and more. I'm constantly amazed at how this army mobilizes to make the race as problem free as it is.
Water stations are every two kilometers on the route and well staffed with water and Gatorade available.
Along the route you will find everything from a Jazz band, buskers, cheering crowds, the amazing Bishop Strachan School for Girls cheering section, and generally not a single part of the course without some moral support from well wishers. Thank you Toronto for being there for us!
The finish line of any marathon is the most inviting thing in your entire life if you are a participant! The finish line at the Toronto Marathon is heaven. Right away you get your medal and pass well stocked Gatorade and water tables. From there you head to the food tent with it's apples, bananas, oranges, and this year these cool round pita like breads that had raisins in them! From there it's on to the massage and stretching tent where eager physiotherapy and massage therapists work their wonders on your trashed body.
The Medal
In all the hundreds of events I've run I have never seen a medal like this one. It's heavy! It's large. In fact I call it a sushi plate! Even the race director, my friend Jay Glassman sees the humor in the medal and saw to it that it was inscribed on the reverse side with the following message: "Holy….! Yes, this really is the medal! Caution don't drop! Do not pack in carry-on luggage. Suitable as a personal protection device. We cannot be held responsible for personal injury." It is so big that it gets it's own paragraph!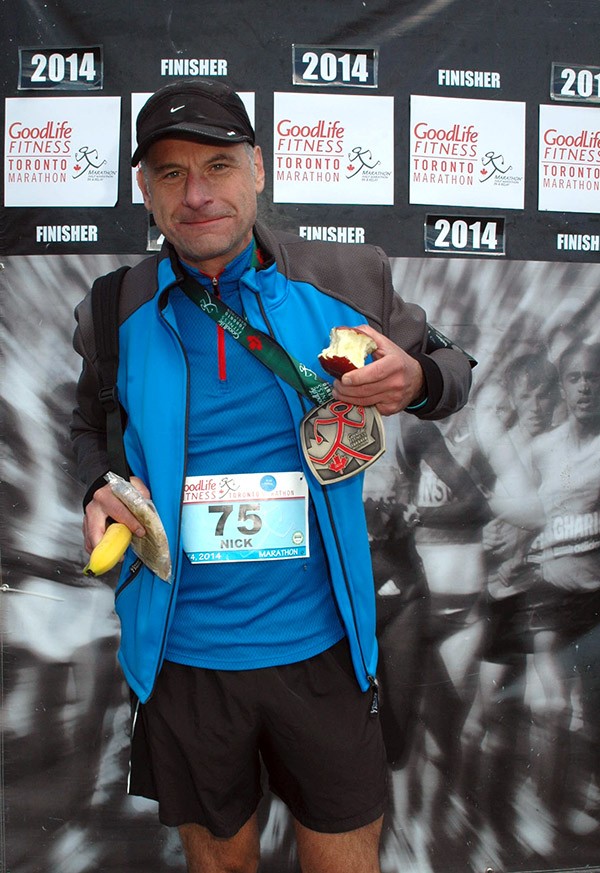 My Race in 2014
So how did I do in 2014? I was 17 minutes slower than I'm capable of doing and I'm happy with that result. Why? Because I ran a 50km trail race with 8,000 feet of vertical up and down in it 7 days before! It's all part of my back to back stress training for the Sinister 7 100 miler in Alberta Canada in July.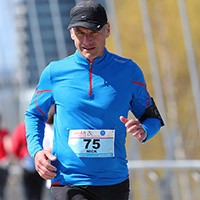 During the first half marathon I felt really good and ran 1:39 at the half marathon point. That would have been good for a 3:18 marathon. However one piece of advice I have and I knew it before the race anyway is that you can't fully recover from a long race in 7 days. It was an experiment to see how I could cope with back to back long races.
In the second half things really slowed down particularly around the 34 km mark where my legs made their presence felt with a lot of pain. Cardio was fine. Cramping ensued and I had to walk/stretch the cramps away for a couple of minutes. By the time I finished I had a 3:47 marathon on my hands.
I'm actually thrilled with this result because my experiment taught me so much! I know that I can tolerate two long races within seven days. I know that it only added 17 minutes to my 42.2km time. I found out a lot of things including don't run such a ridiculously positive split time when you totally know better!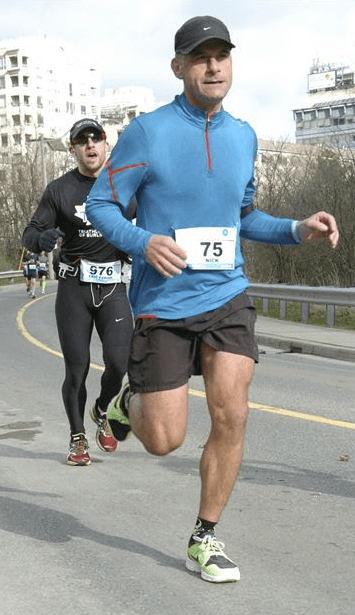 Goodlife Fitness Toronto Marathon Details
The next running of this iconic race will be May 3rd, 2015. I highly recommend the experience!
Marathon
Half Marathon
5K
Race Expo on May 1st and 2nd
All details are available on their website: www.torontomarathon.com
The Goodlife Fitness Toronto Marathon is organized by Running First. For details on other races by Running First visit: www.runtoronto.com
If you are looking for a great fall Half Marathon, come to Collingwood for October 4th, 2014. For all details: www.runcollingwood.ca