The Oak Island Marathon
Just after new year's 2023, I saw an ad for what looked like a really fun marathon in Oak Island, North Carolina. I know that I had the 2023 Coast Guard Marathon just 2 weeks after Oak Island, but I thought it would make a really fun way to do my last long run before the Coast Guard. I also thought it would make a really great valentines gift for my wife Mercedes who loves run tourism as much as I do. So I signed us up, me in the full and Mercedes in the half.
The race course is super flat except for a bridge at 22 miles (35 km) that crosses over the intracoastal waterway. That bridge is a surprisingly tough climb that you do outbound and again inbound! Following the beach partly and going through some amazing quiet neighborhoods and passing the historic lighthouse, the race provides a lot of amazing sights.
Although the race is mostly on road, there were sections where we were made to run on the sidewalk! I was surprised to find this out, and Mercedes mentioned a runner had tripped on the uneven sidewalk and fallen. I also didn't like the fact that traffic was allowed to mix with runners on the east loop although under the control of the police. To me as a race director I would close half a lane and leave the other 1.5 lanes open to traffic. Using cones to divide the race from the cars would make it a lot safer. The turnaround for the marathon was before the turnaround for the east loop half as well. I myself added a short extra 20 meters or so before realizing marathon turns there. There was no sign or volunteer at all, only a spray painted semi circle arrow on the pavement. If you are not looking down at your feet you will miss this turnaround. Lots of runners missed this!
Criticisms aside, the after party was good with some BBQ and a beer. Lots of good people and conversations and war stories! The organizers are great people and I was happy to collect 1st place in my age group and get an extra medal for that. Overall the race was well done and the volunteers were fantastic. I truly want criticisms mentioned to be taken as constructive and I'm sure that next year these things will be rectified.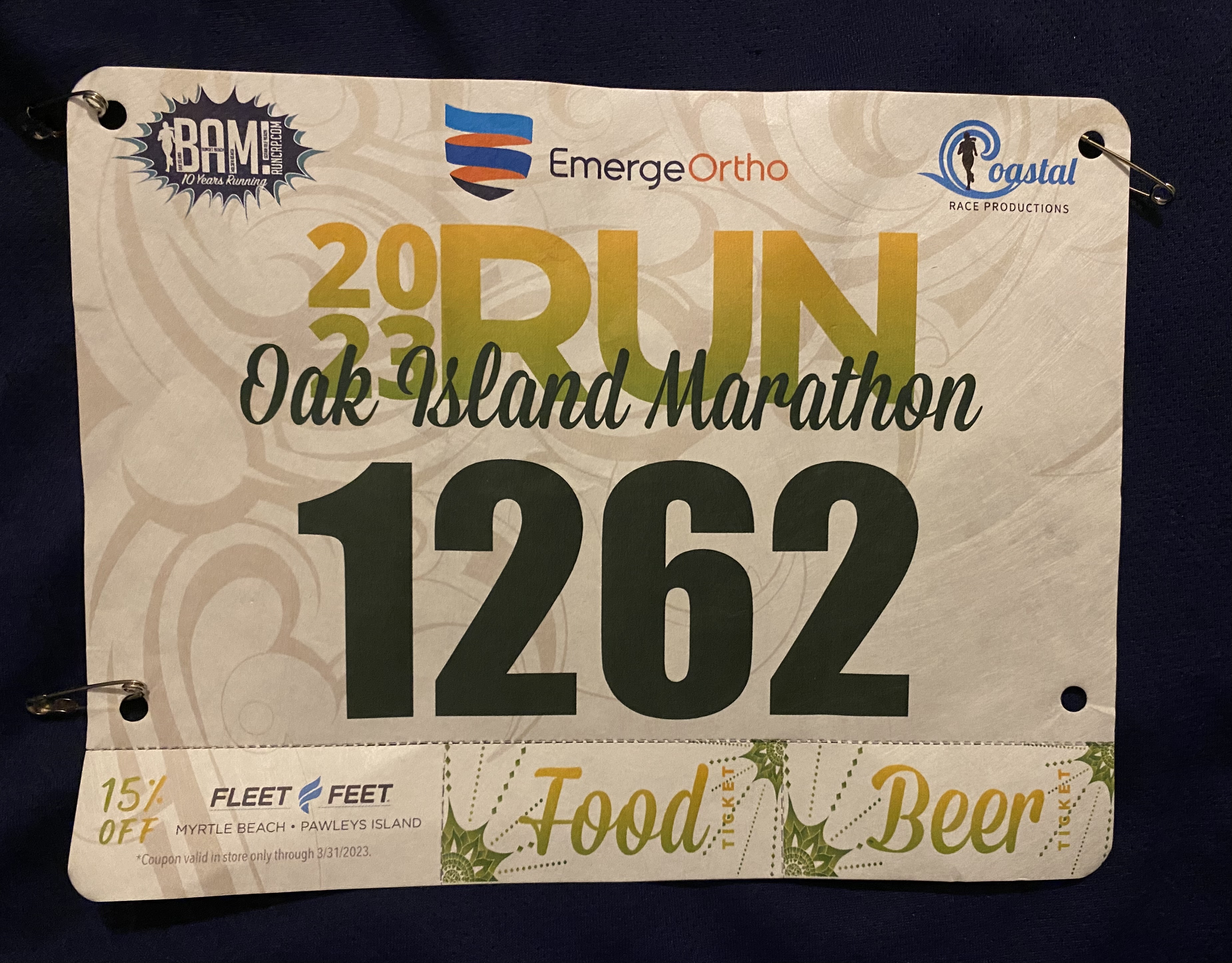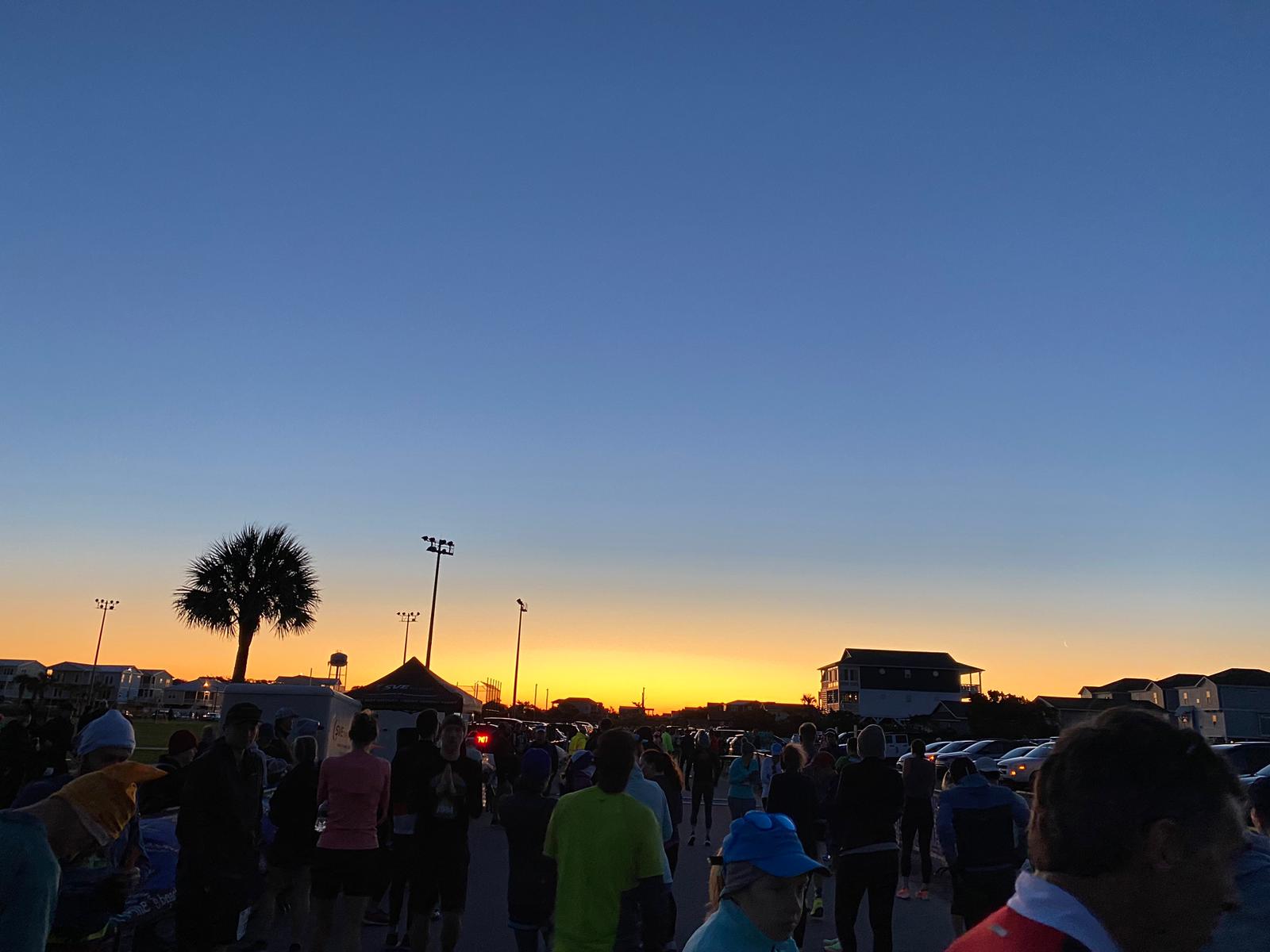 Race day - Lining up!
Our AirBnB was just a block from the start/finish of the race. This made it so easy to make sure we had all our bathroom business, small breakfast and coffee and everything else done before showing up. No potty lines for us! Our host Barb was an amazing genuinely warm person who has one of the nicest places we have stayed in yet!
By 6:35 we were at the line 10 minutes ahead and the music was pumping. The sun wasn't up so it was chilly with about +2C temperature and I was happy to be Canadian so I was fine in shorts and my tech running shirt. After the anthem we were off promptly at 6:45. Because the east course half marathon was starting at the same time as us, I got to run with Mercedes for a little bit until things spread out.
The Race
This course promised to be really flat and fast and the first 10K did not disappoint! We ran through some early morning chill in the local community as the residents awoke and cheered us on.
After running through residential areas we opened up onto the road that follows the seacoast out to a beautiful historic lighthouse. The lighthouse is the only 100% volunteer managed lighthouse in North Carolina.It is a relatively young lighthouse being completed in 1958 and stands 169 feet above the water's surface at the tip. Tours are available: http://www.oakislandlighthouse.org
The course swings around and back south along the water to pass the starting point just after the half point. It is a little psychologically unnerving to pass the finish line knowing you have to run out away of it and do what you just did in terms of distance all over again, but that is marathon running, a mental game.
I chose to simply enjoy the ocean breeze and ran along the coast pass vacation homes that sit next to the beach. After a long time we turned around and went back along the same route with the course remaining dead flat which was great.
35 km  is usually a very mentally tough point in any marathon for me and I'm sure many others. It is at this point in the race that we turned left onto the road that takes us to the bridge over the Intracoastal Waterway. I've run a lot of hills in mountains in trail races so hills are part of the deal for me, however to have this bridge/hill come at 35 km into a marathon was a little tough mentally and physically. When trying to qualify for Boston, every minute counts and I'm sure my time would have been 5 minutes faster had the bridge hill not been part of the race. I think that the organizers could have easily avoided this by simply extending the turnaround point further out West Beach Drive. I feel it would also be less disruptive to traffic.
After climbing the bridge outbound, turning around, and climbing it again coming back it was back to Beach Drive for a few final kilometers to the finish where we had started earlier in the morning. The finish was epic because I was determined to push hard at the end having lost some time to the bridge and worried about my BQ. I fell into Mercedes' arms 5 minutes under my BQ ready for BBQ and beer!
The Finish
The cool but super sunny race day had warmed slightly and the finish area park was fun with some folks sticking around for a little bit. There was a small sample of BBQ and a beer which was a nice treat. Not a 4 beer/Irish stew live band type of deal like Shamrock Virginia Beach but I understand as a race director that smaller events are different and the economics dictate things. It's not easy organizing a road race and the costs are high so I have to give kudos to the race organizers.
Having won my age group I was pleasantly surprised to receive a 2nd medal commemorating that. And as for the participation medals, they were epic! A giant surfboard medal that will look good hung at any tiki bar was the prize!
Conclusion
The Oak Island Marathon/Half Marathon/10K/5K/1 mile has a distance for everyone! There is even a tongue in cheek "ultra" option of 2024 which is approximately an extra 0.1 mile to make it slightly longer so it can be called an Ultra. The half marathon can be run as an east course or west course race so that either of the 2 half of the full marathon can be run as a half. This is a great option for those who wish to avoid the dreaded bridge hill.
The after party I'm sure would be hopping for longer had the weather been warmer, but it was good with a DJ, BBQ and beer.
Oak Island itself is definitely a nice getaway mini vacation. Mercedes and I love to do run tourism and we always explore the places we run. There are always new restaurants, hiking trails, beaches or whatever the area has to offer. On this trip we explored Bald Head Island after a ferry ride from the mainland.
Bald Head Island is a beautiful little island where no cars are allowed so it's all golf carts! There is another little lighthouse on it, several marshy hiking trails, a marina, some little restaurants and more! I highly recommend making the trip to Bald Head.
Definitely run this event in 2024.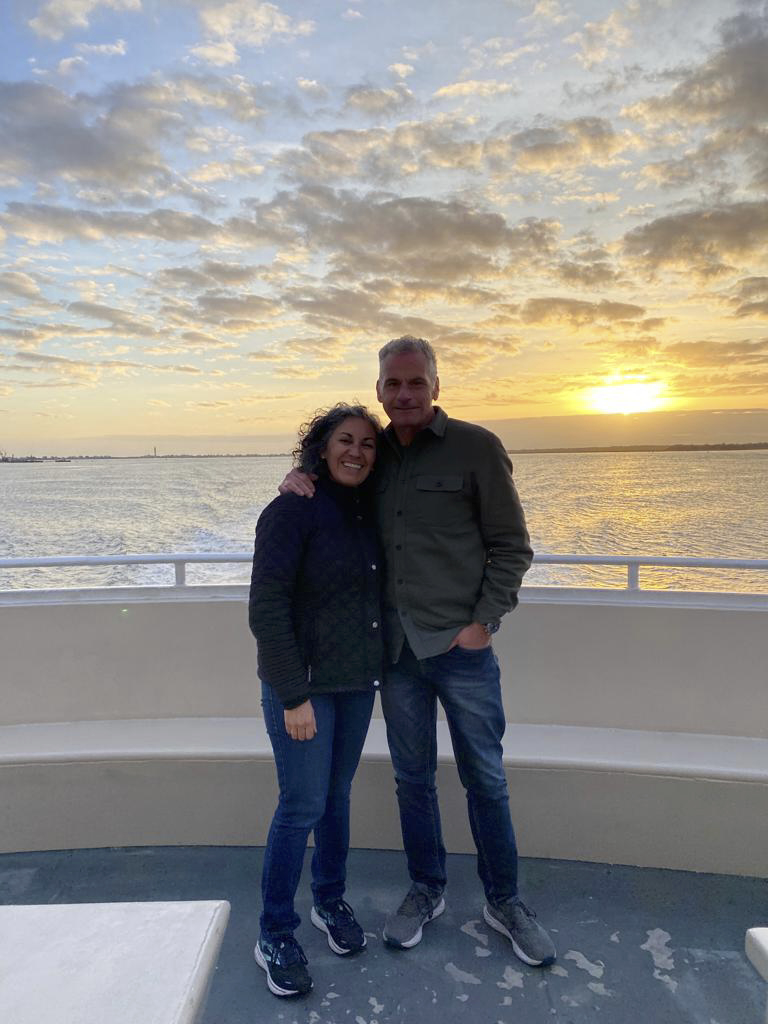 On the ferry at sunset heading back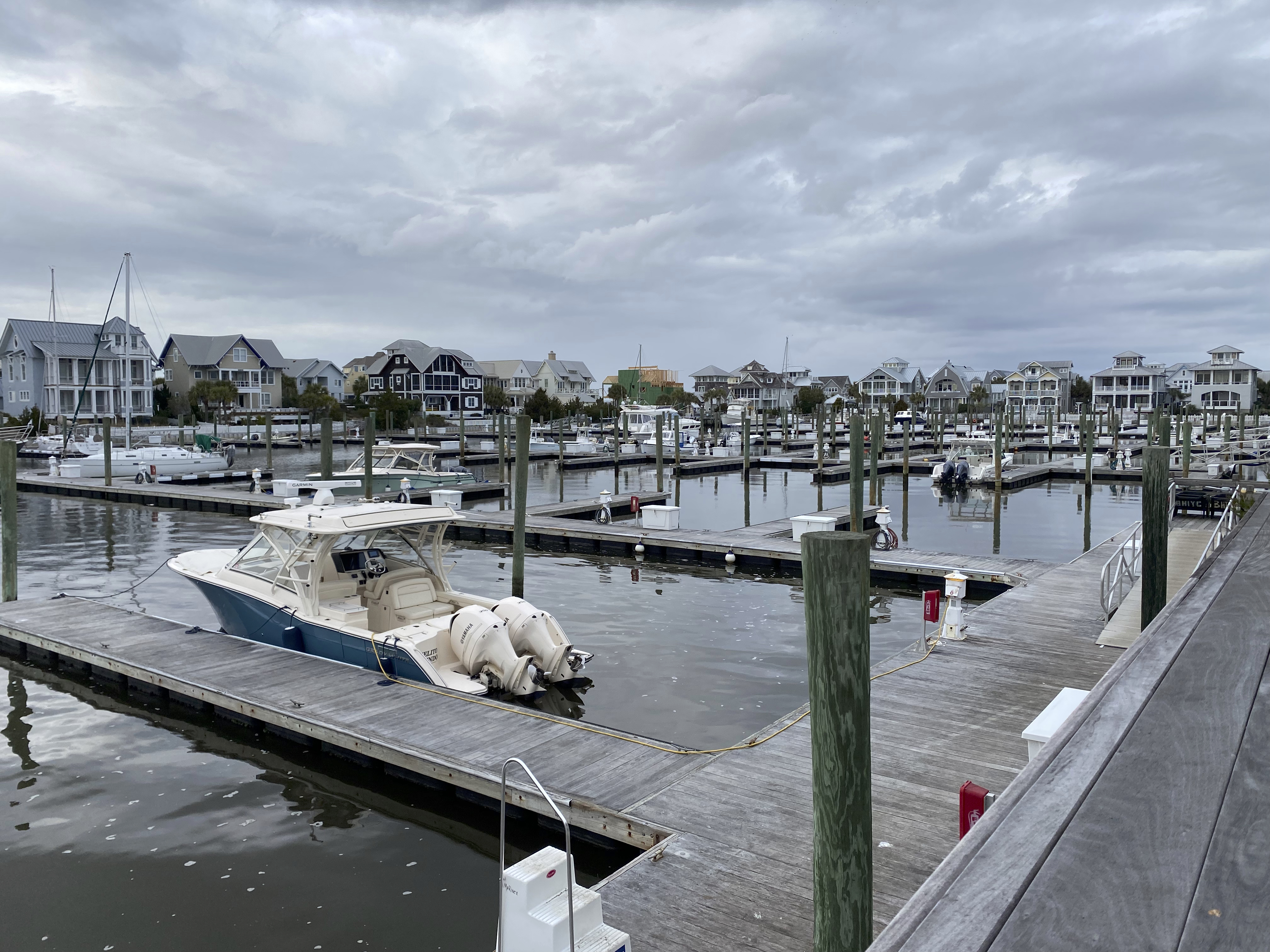 Bald Head Island Marina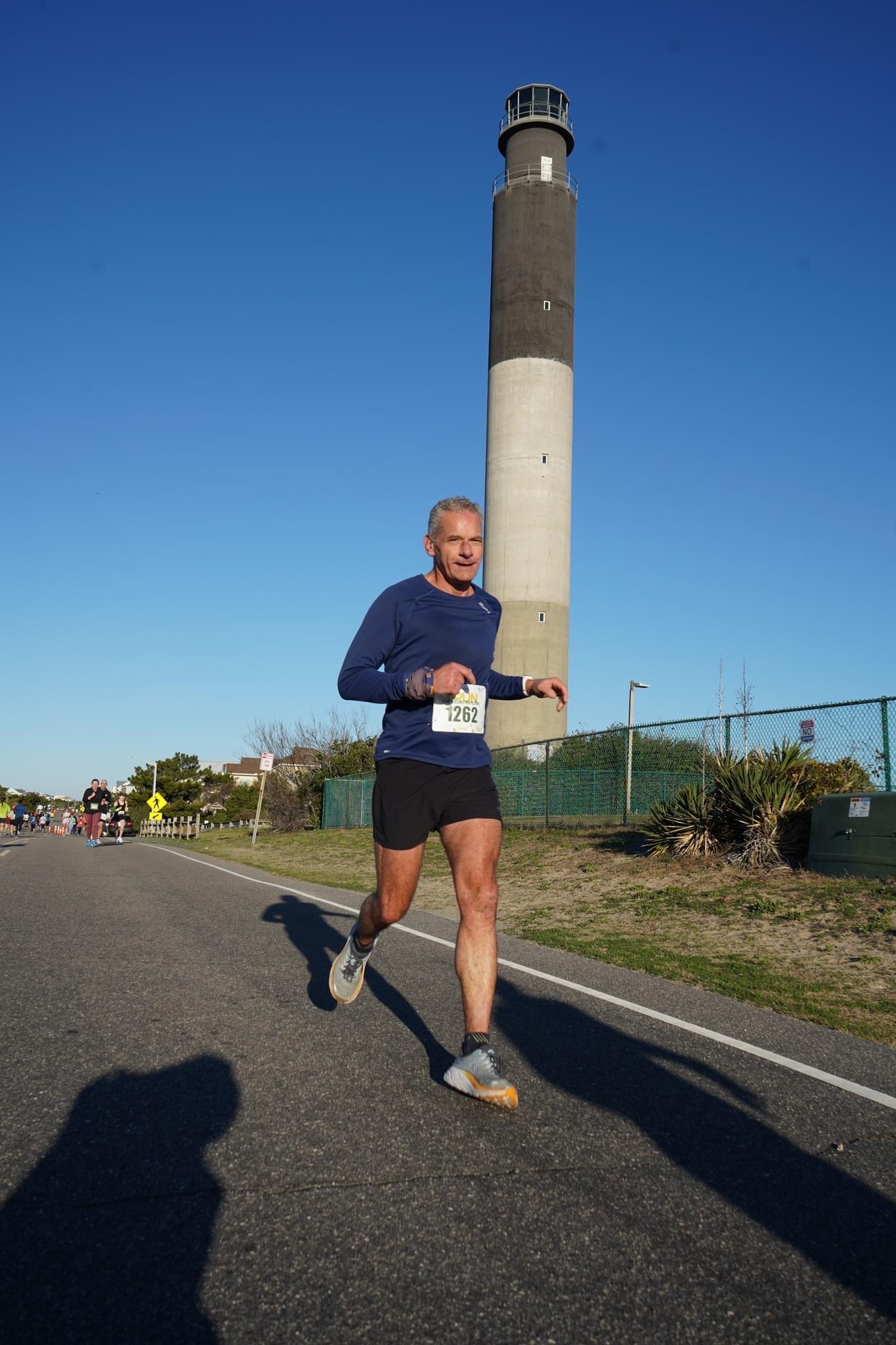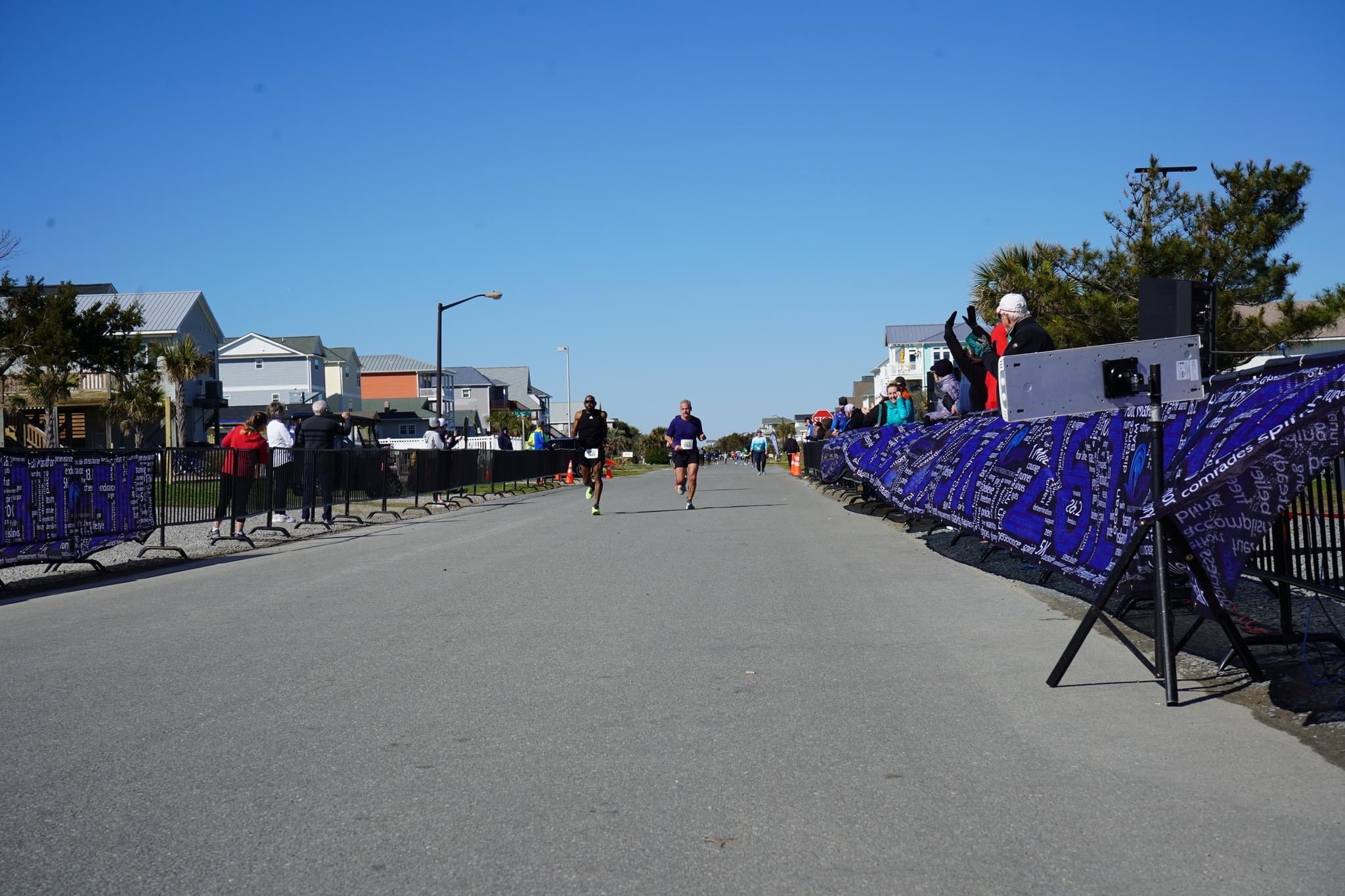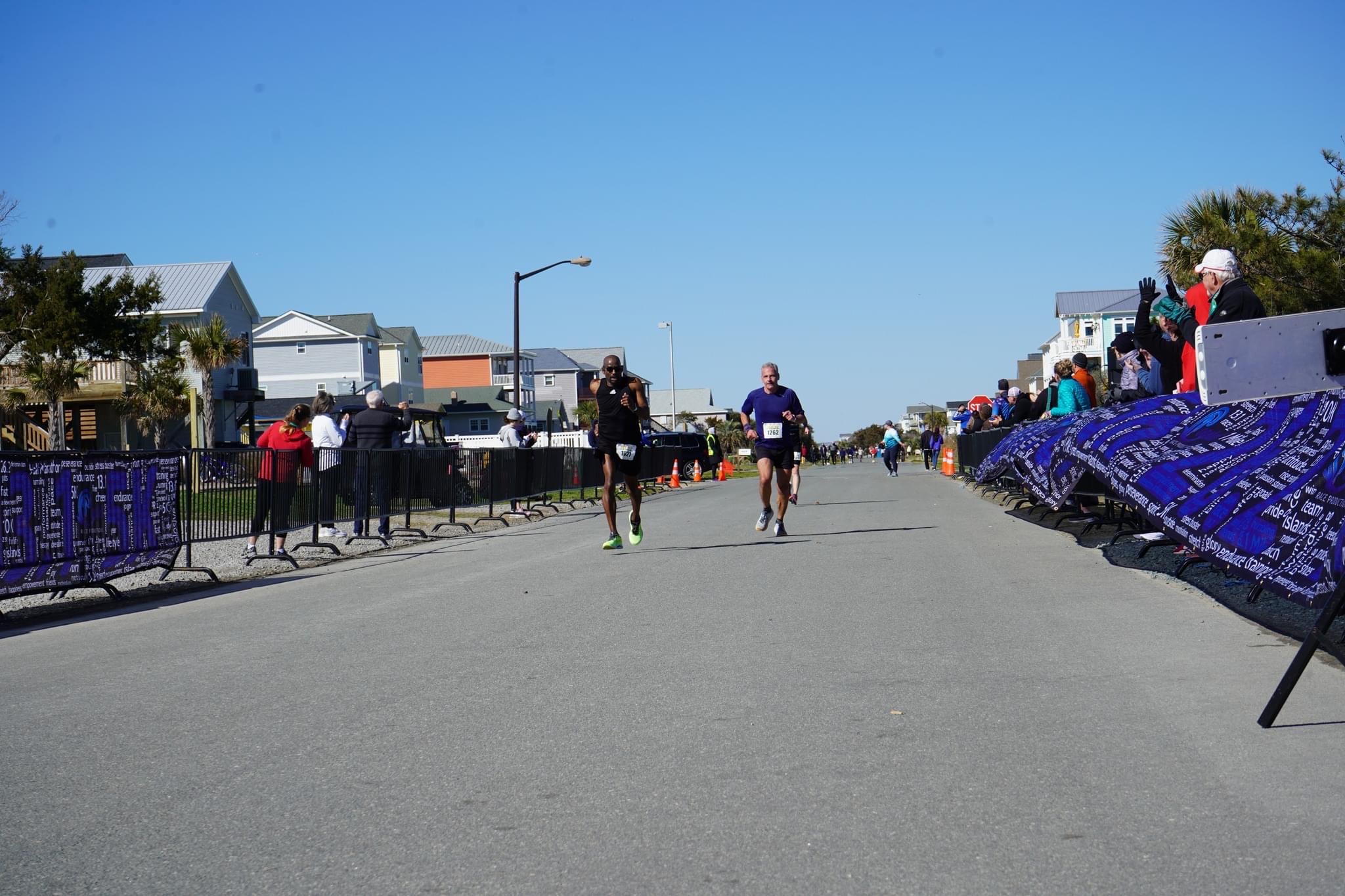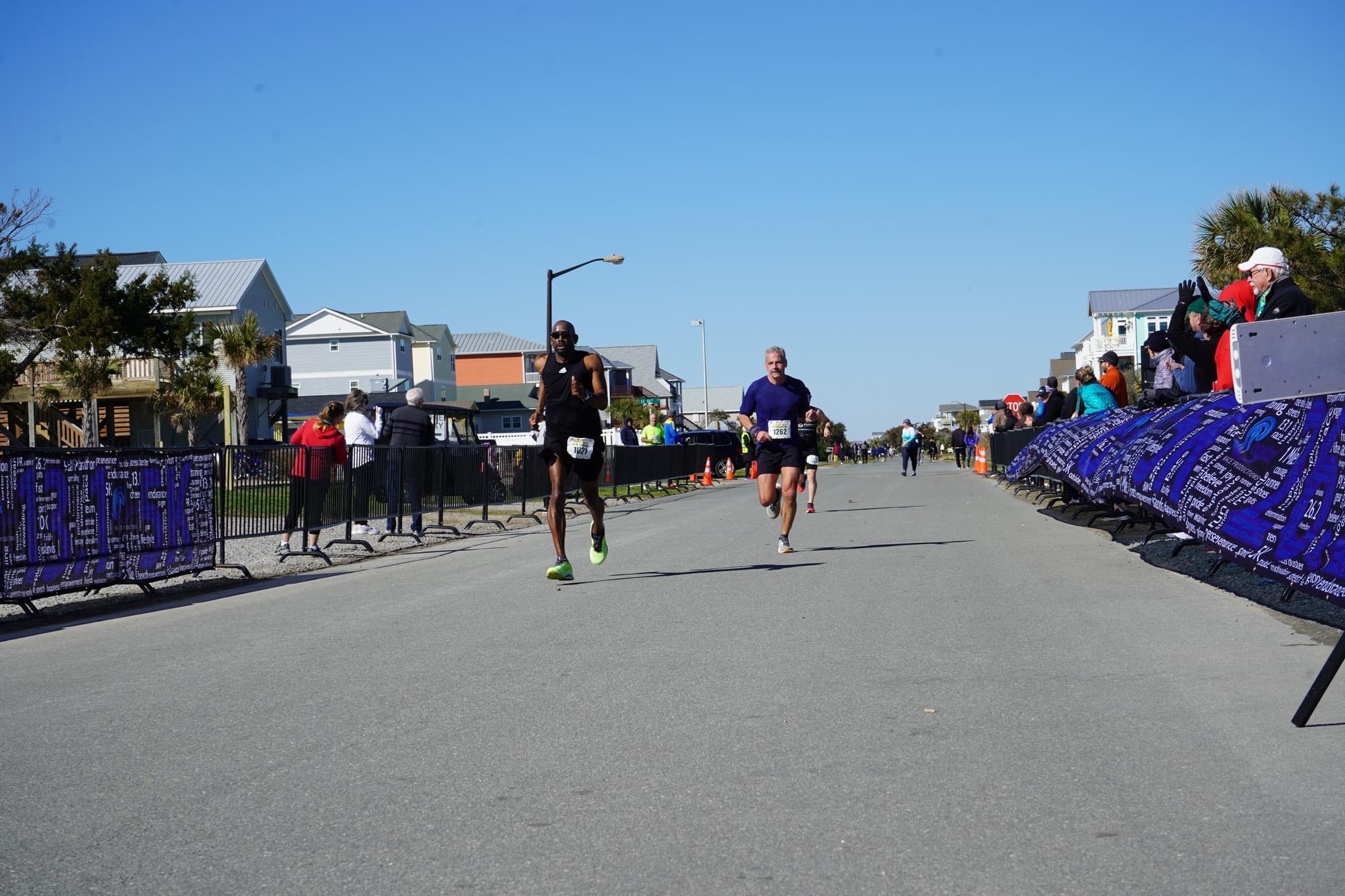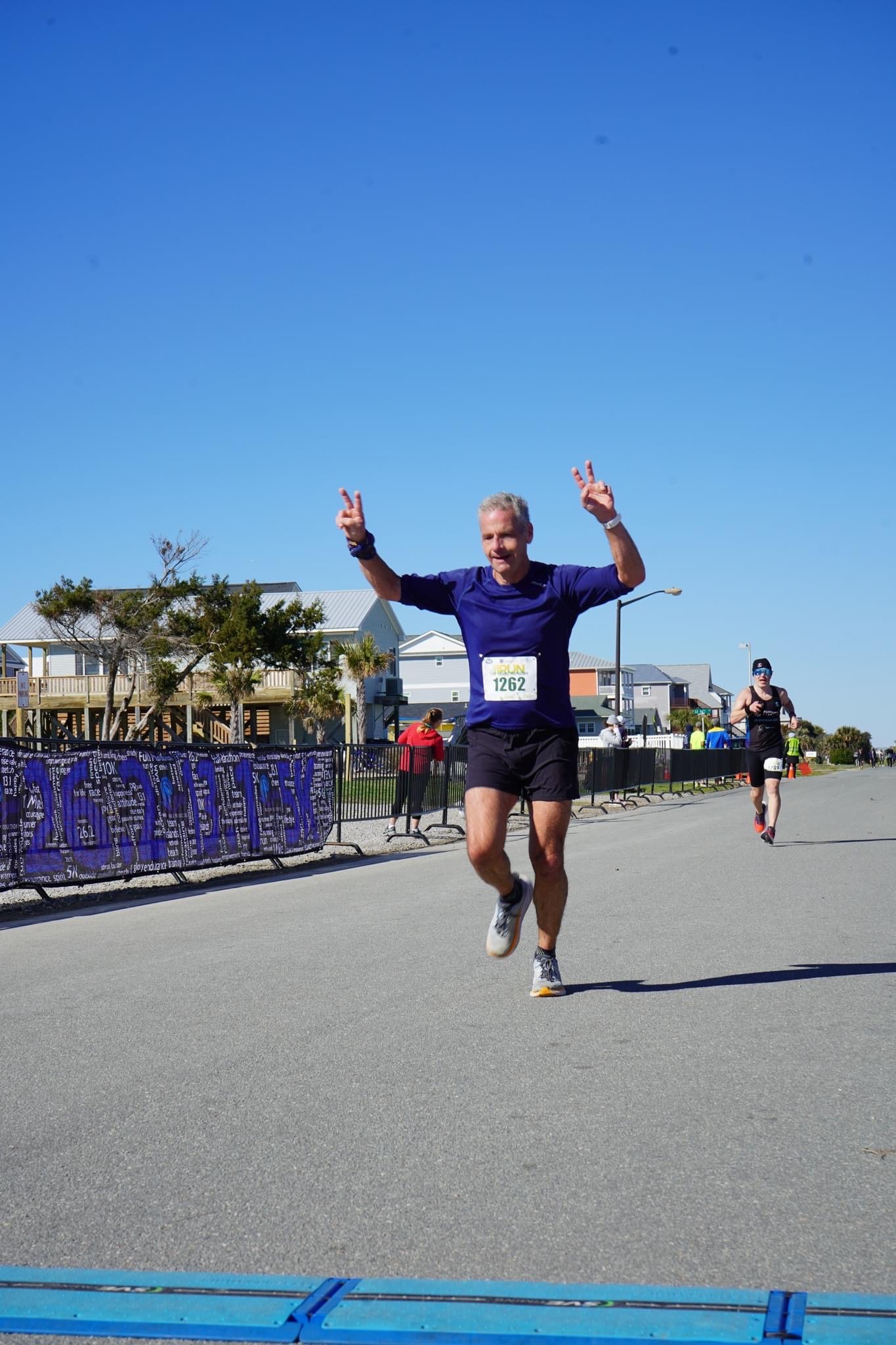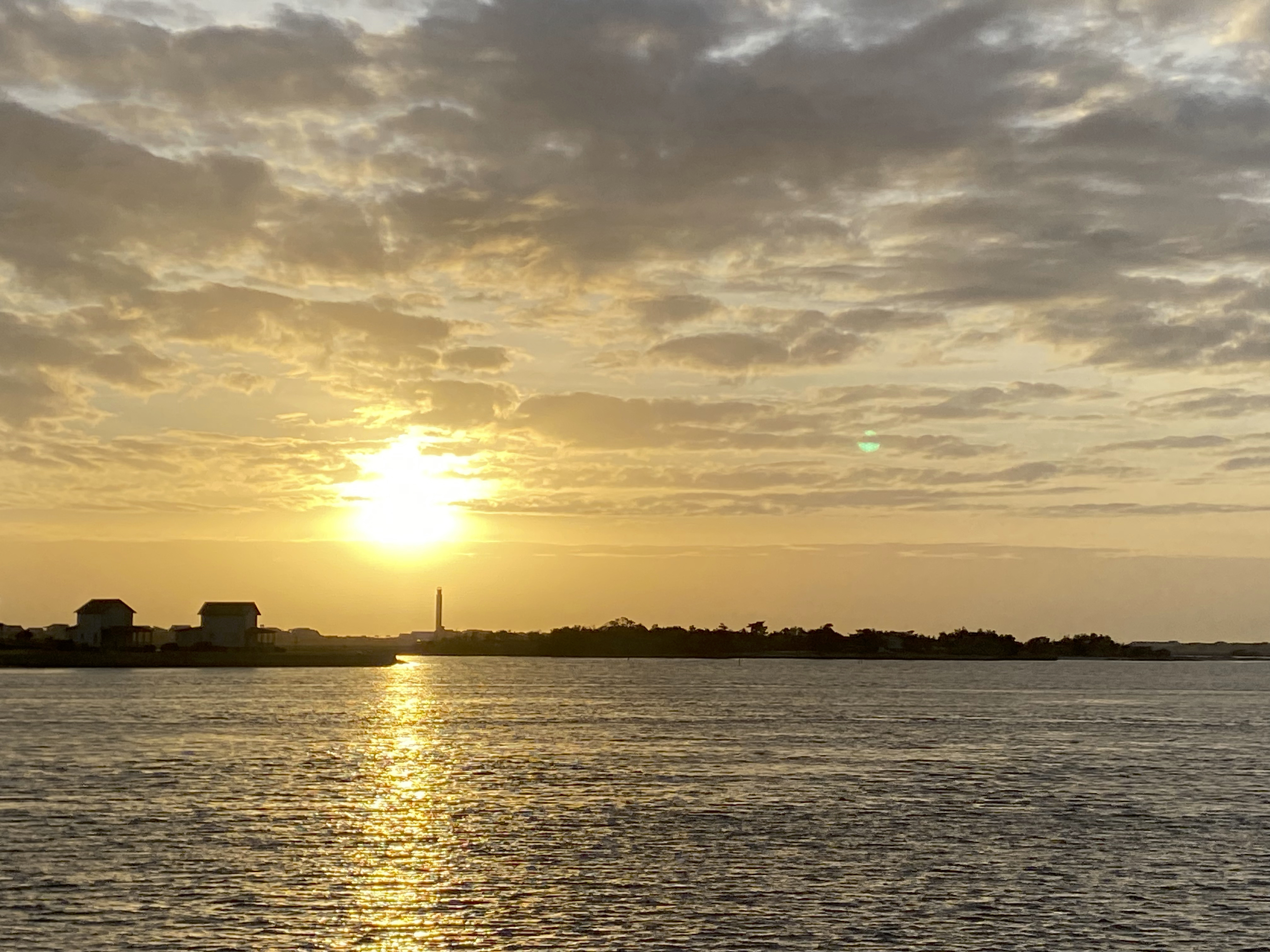 Looking back at Oak Island lighthouse from the ferry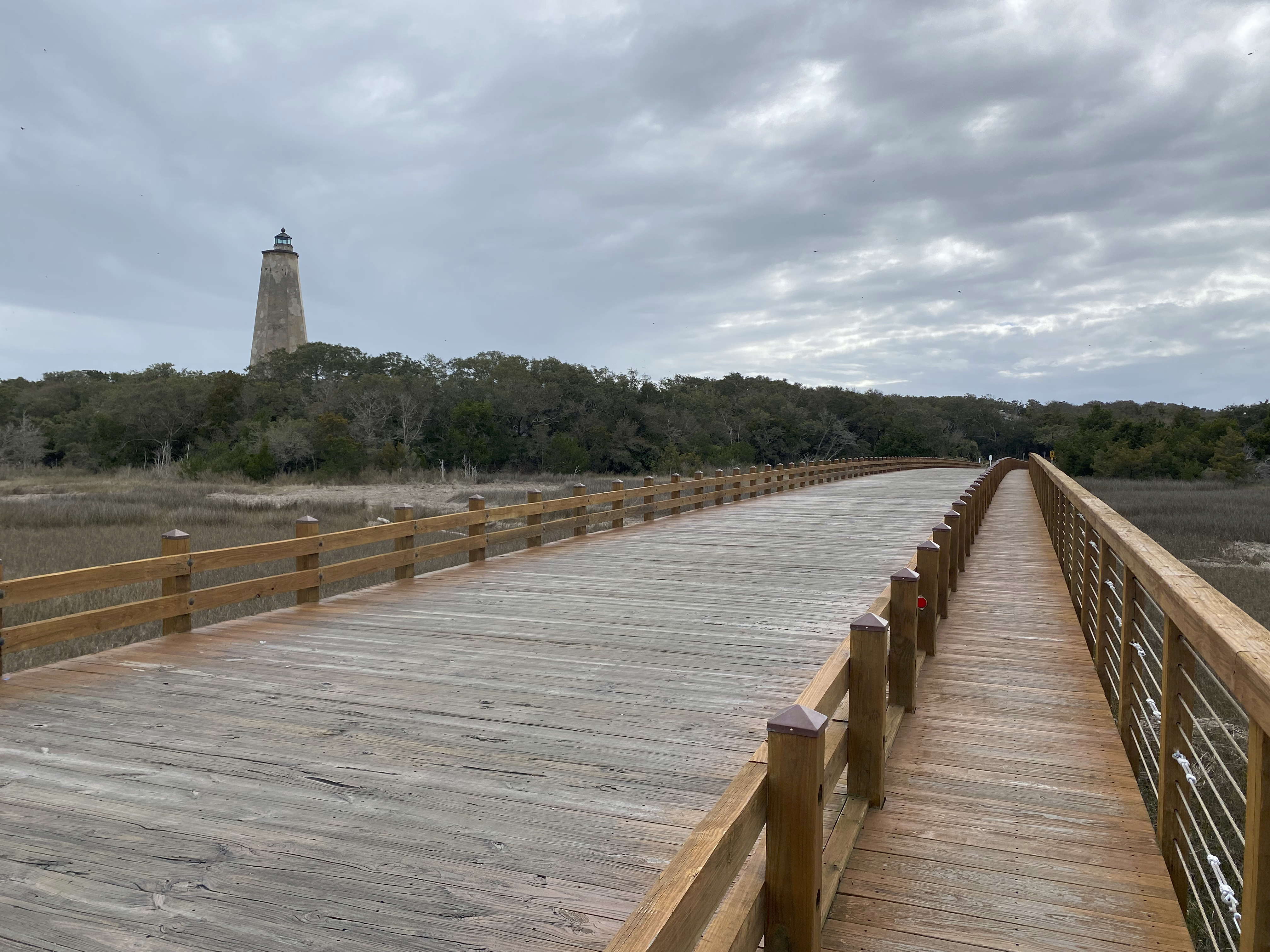 Old Baldy Lighthouse