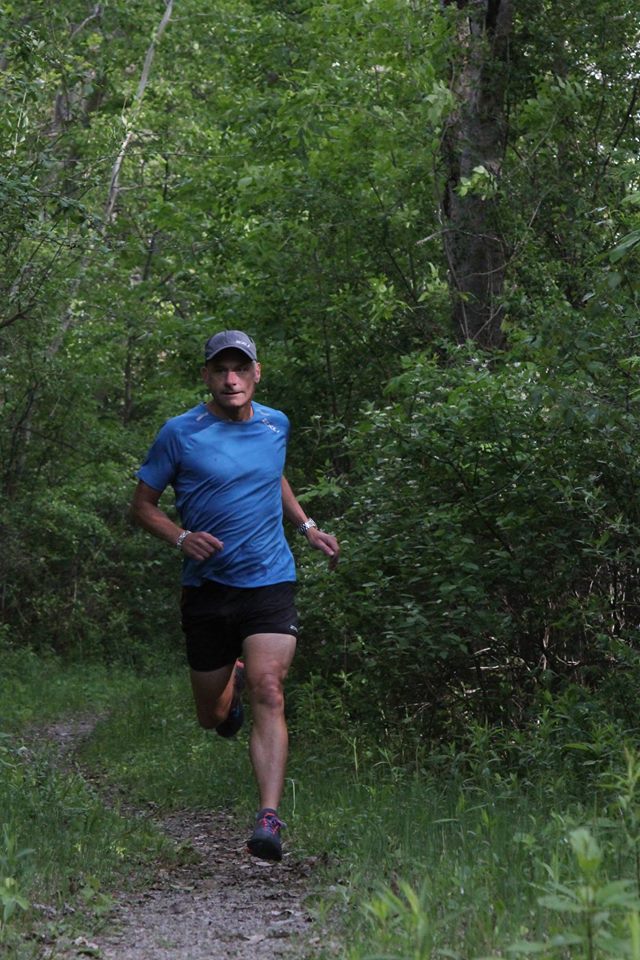 With the North Face Gore-tex 50 mile race looming 10 days out I've been peaking with my training and moved on to a gradual taper. It's all about staying fresh and moving from now till the race.
The buildup for a trail ultra works like the buildup for any other race except the quantity of training is on a different scale. Where road racers concentrate on distances and split times, trail ultra runners measure their training in hours and vertical feet. The successful trail runner trains for long periods of time running and for climbing more than nailing their splits. It's not that trail runners don't care about being able to run fast, it's just a shift in emphasis.
Early on in the late winter and spring I had been building up the length of time of my runs and adding in more hill climbing despite the snow. Then in April I had run 44 km in the spring runoff event in early April followed by the Pick your Poison 50K trail race at the end of April. I was pleasantly surprised at how effective my early buildup had been by the fact that I had beaten my previous year's effort by nearly a hour at 5:38! With this encouraging result I began an even more intense phase of training with my sights set on my firs 50 mile (80 km) race of 2015.
Hell Month
June was 42 hours of quality training. The format was hard weeks alternating with easier weeks. The hard weeks ended up being 150 km but more importantly they contained long slow runs on trail of up to 53 km in length.
Long runs themselves are good preparation, but loafing along in the aerobic grey area doesn't help build your lactate threshold or pain tolerance and let's face it ultras bring pain. So adding vertical climbs and varying the pace to push then back off and push again helped simulate going to the edge of my capability followed by dialling the pace back to partially recover was the ticket.
Added to the long runs were back to back to back efforts such as 35k, 25k, 25k over 3 days in a row followed by a recovery day. All of these were on trail and all had lots of climbing.
Other workouts were climb only runs with up to 5 times up and down our local ski hill. Think of these as hill repeats of 730 feet gain.
Once a week I liked to run fast like 4:40 km pace for a shorter distance of 10 to 15 km because running faster uses different muscles and feels refreshing.
Inspiration and Taper
With 10 days to go it's time to gradually taper. The money is in the bank and ready to spend. I won't be getting any fitter by training more so I run for no longer than 2 hours. Sometimes 1 hour is enough.
In order to taper successfully and run less after running has been such a large part of your life it's a good idea to do a few things. Remember to trust the hard work you have done and never try to cram more running in and derail the building up process you are undergoing. Sleep a good solid 8 hours every night. Drink a lot of water and adjust your diet for the reduced calorie burn. If you drink alcoholic beverages consider quitting them for a few weeks.
Lastly turn the easy runs you are doing into fun! Look to other running friends for inspiration and take pleasure in their accomplishments.
I recently had the pleasure of running with a Kenyan Athlete I coach named Sammy Kibet Chumba who has run 63 minutes in the half marathon and 2:17 in the marathon. Obviously he is at a completely different level than I am with his running. However running with him was fun for him because he rarely runs trails and fun for me because we were taking it easy and just enjoying the run.
Enjoy your training and enjoy your racing! You have taken the time to build up to it and if you don't reach your goal time then be happy with your alternate goal time. So much can happen over the course of 50 miles so enjoy it, race hard and have no regrets!
Nick Brindisi is a running coach and 2XU athlete & product ambassador
Instill Coaching Website >