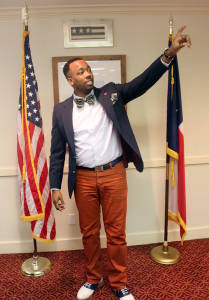 Michael (Mike) C. Matthews Jr is a charismatic leader, philanthropist, youth activist, motivational speaker, and aspiring author. His number one goal in life is to help the youth of today understand their full potential.  Mike's passion for helping/developing others began early on in his youth from the trials and tribulations of his life. Like most young men in his community, he was raised by a single mom in a low income, inner city environment. As a miss-guided teen, there were choice that he made in the past that could've lead him down a road of self-destruction. Growing up, Mike realized early that he needed to make a change and defined his own identity, ultimately resulting in not becoming a product of his environment.
While, receiving his academic training from The University of Maryland Eastern Shore, Michael had the opportunity to serve as a student ambassador for the university and recruit new students to an institution that has given him so much.  He had the opportunity to make history in his family by receiving a Bachelor's of Science Degree in May 2011. There is no wonder that he is highly respected by his fellow peers. He is regarded as a positive and effective role model and has set the pace for others to follow.
As a young leader, Michael vowed to himself that he would never settle in life or allow fear to chain him down because of personal insecurities. Therefore, with that mindset, Mike was fortunate enough to leave the inner cities of Washington, DC and gain what he regards as his dream "JOB" in Texas. Currently, Mike is an Operation Systems Programmer for one of the world's leading financial institutions in the country.  Mike is a well-established corporate professional, but would undeniably admit that if it weren't for the grace of GOD, he wouldn't be here today.
Michael's vision is to travel all around the world and touch the lives of troubled youth by sharing experiences, wisdom, and tools that helped him escape his past circumstances.  Michael states that, he "Yearn and aspire to do more in my life and for those who will be affected by my existence on earth".
"The youth of the world are our future.  If we neglect their significance and refuse to invest them, our nation will continue to tumble."
–Mike Matthews
Visit Mike's site: www.journaldump.com