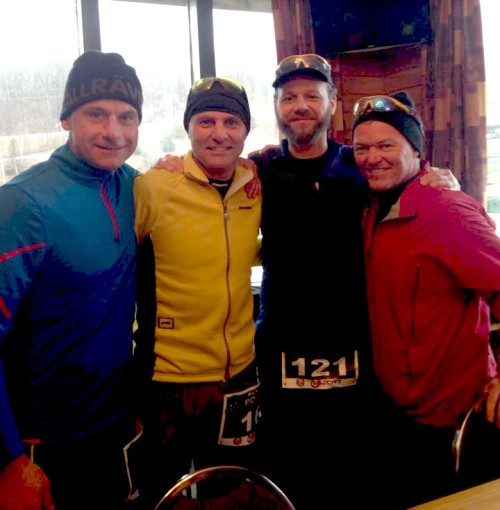 Saturday April 26th I had the pleasure and pain of participating in the Pick your Poison trail race. The race took place at the Heights of Horseshoe at Horseshoe Valley in Ontario, Canada. It's aptly named Pick your Poison because you can pick 12.5km, 25km or 50km which equals 1, 2 or 4 times around the grueling course.
With nearly 8,000 feet of elevation change in all the ups and downs the 50km race proved a difficult test. Our late winter and cold spring of 2014 resulted in ankle deep mud and corn snow in places that typically are hard packed trail. However, I can say that the rain did hold off and the grey skies kept the sun out of our eyes.
The course loop featured 3 aid stations located at the start/finish area, and every one third of the loop fairly equally. They were well stocked and had a variety of what ultra-runners crave including, water, Heed, salty snacks and sugary candies. The start/finish station even had wonderful salty chicken soup, the perfect source of calories, salt and heat on a relatively cold 4 degree celsius day. All volunteers were amazing, friendly and helpful.
From a psychological standpoint I found that it can be an extra challenge knowing after the first of four laps every hill and every tricky spot, and knowing I would have to do them all 3 more times. Still it's just one of those things you deal with and can only make you tougher. The flip side is that I found that after climbing the last long hill on the last lap I knew exactly how close I was to the finish!
I highly recommend this race and would do it again.
For complete details about Pick your Poison 12.5k, 25k, 50k Trail Race visit the race website: http://pickyourpoison.ca