Karrie is the owner of a tour company like no other, Livin' Adventure offering small-group hiking tours through the incredible Austrian and Swiss Alps or through the Pyrenees in Catalonia, Spain. Each tour is personally led by Canadian guide Karrie Gregson, who has hiked the area for over 18 years. Groups limited to 6-8 registrants.
For more information or to book your tour visit her website: www.livinadventure.com
Karrie has been a Personal Trainer since 1996 and a Fitness Instructor since 1989.
She uses a Holistic Approach to her coaching and is focused on helping people awaken to a whole new level of energy and adventure within.
Karrie emphasizes nutritional cleansing & replenishing the body into her programs (learn more by visiting www.Isagenix.com)
Karrie loves climbing mountains, running (especially mountain running), making unique healthy goodies, dancing under a Disco Ball and adventurous travel.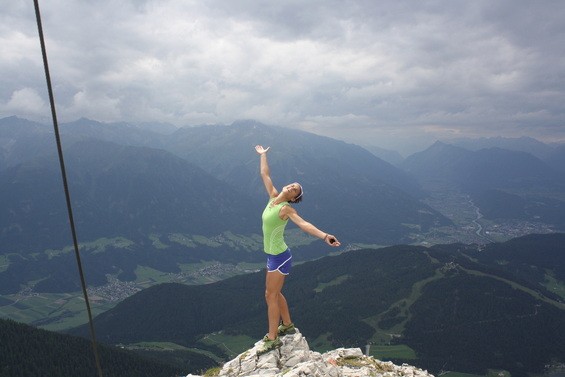 Karrie's personal vision
My passion is to lead people to experience the FREEDOM that the simplicity of the mountains and adventure travel brings. To unleash your own love of life that is inside you all the time—living your True Self—I find bringing people to the Awe of the Mountains here—the earthy, grounded self can't help but emerge and dance with life. This creates such a wonderful grounded perspective that you carry with you always.
~ Karrie Gregson
Personal Athletic/Adventure Accomplishments
IRONMAN USA Finisher (2000, 2001)
2x Canadian Duathlon Team Member (Competed at World Championships Germany—1998, Switzerland—2003)
11x Marathon Finisher (including 3 Boston)
Everest Base Camp Climb, 2007 (18,500 feet Elevation)
Kilimanjaro Summit, 2009 (5895m)
Ultramarathoner - RACES INCLUDE: 3x Goretex Transalpine Run Finisher: Top 10 Team Finisher 2011, 4th place for women 2012, 8th place for women 2013: Transvulcania 2013: Teneriffe Blue Train 100km; Karwendel Marsch 2013,Mountain Man Trail Race 2010, 2x 6 Hour Trail Run Finisher, Waterloo 2010, 2011 + numerous other long distance trail runs in Canada and Overseas