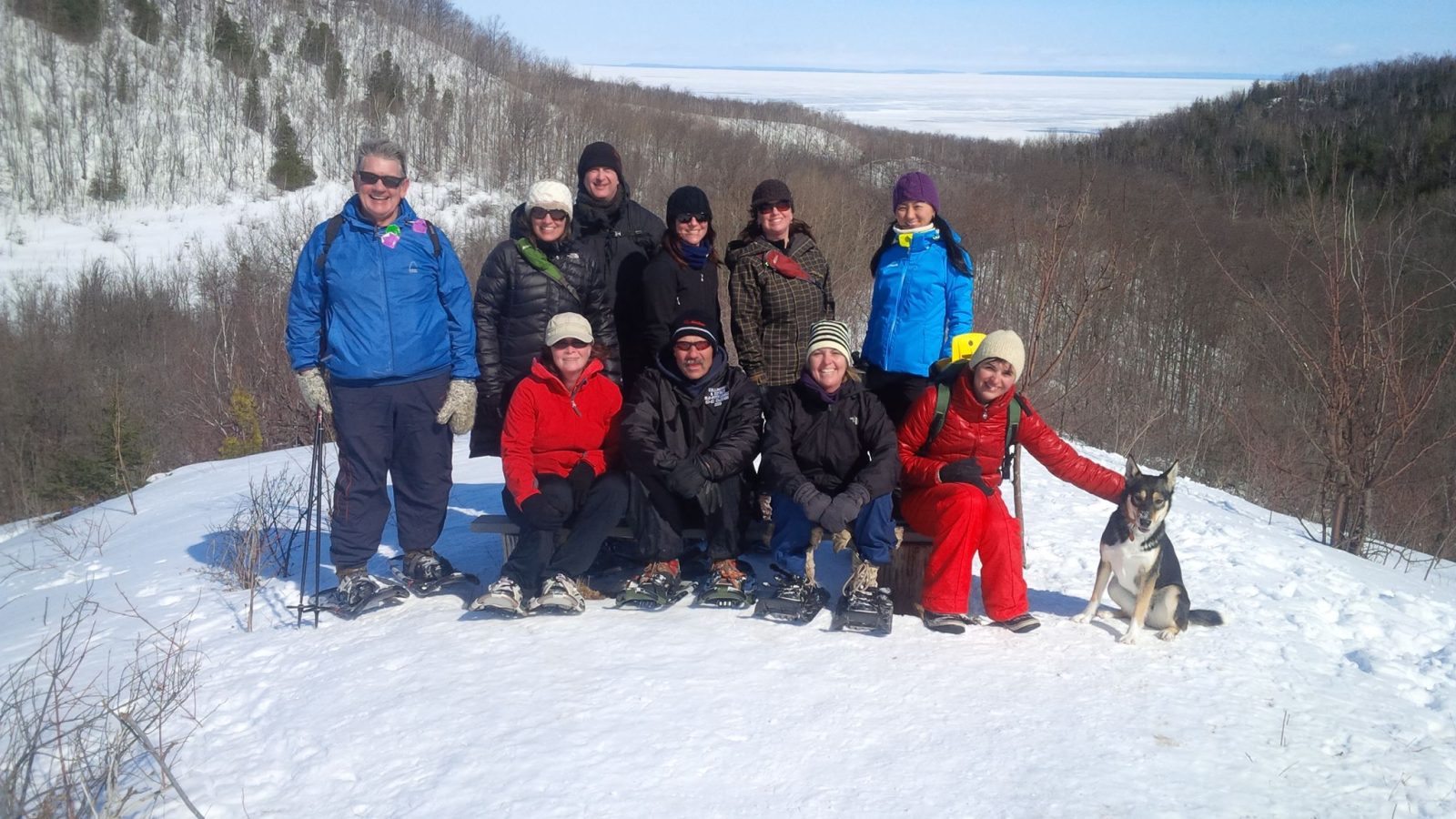 The winter of 2013/14 will be remembered as one of the snowiest, coldest, longest lasting ever. The weather patterns caused by the polar vortex resulted in a winter in which the temperatures were much colder than normal without the usual thaw periods found in the Collingwood, Ontario, Canada area.
The Georgian Triangle Snowshoers group made the most of the winter of 2014 with a full agenda of snowshoes taking place both on weekends and through the week. The group boasts 244 members at the time this article was written and enjoys a turnout of as many as 30 snowshoers on a typical hiking day. The hikes this winter were held in a variety of locations mostly centered around the Niagara Escarpment and ski hills including Blue Mountain, Georgian Peaks, Alpine, Craigleith, Devil's Glen and the Mingay Forest Tract.
A variety of terrain is often encountered including many ups and downs. Some of the hills include ski hill sized climbs of varying steepness. Conditions can vary from hard-packed to floating through knee deep or deeper powder. The spiked area underfoot on most modern snowshoes makes footing quite sure when climbing or descending steep hills.
A wide variety of modern snowshoes are available and provide choices that accommodate many applications. You can find large ones for deep snow right down to special running snowshoes that trade off non-sinking properties for speed and traction. It's important to consider the tripe of snowshoeing before selecting a pair in order to buy the pair that suits most of your typical snowshoe trips. Joining a club like the Georgian Triangle snowshoers not only provides the company of like minded individuals, but it can be a great source of experience in the sport if you are just starting out. For more information follow the Facebook page: https://www.facebook.com/groups/georgiantrianglesnowshoers/
In general it's a good idea to make sure you are dressed in layers and dress for the coldest expected temperature you would expect that day. The layers provide the ability to respond to changes such as climbing temperatures or maybe you are working hard on a climb and getting hot. Good gloves and warm footwear are super important especially if you will be hiking a long way from any alternatives. Bring some snacks and fluids to drink if it's a long hike. A cellphone and your wallet also make good companions should you ever become lost or need money for whatever reason.
So go out there and enjoy winter! It's yours for the living and it beats cabin fever!